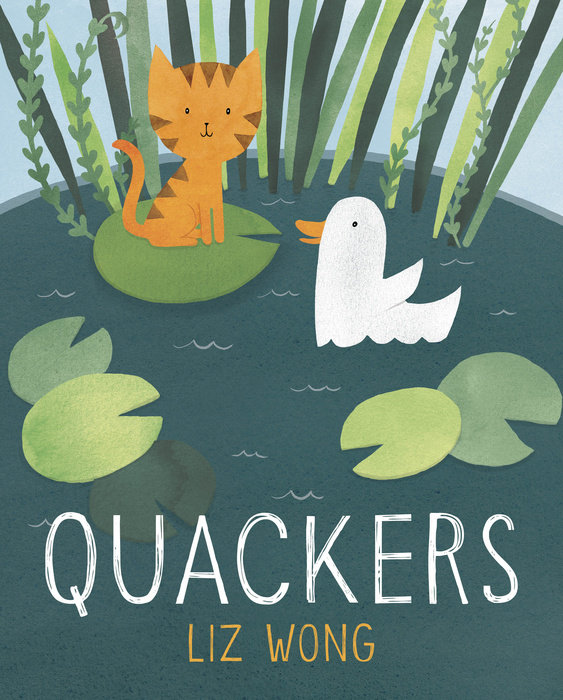 "Wong's delightful illustrations perfectly capture the sweet silliness of this story. Children will appreciate Quackers's quirky dilemma, and the underlying message that friends do not have to be all the same will surely not be lost on young listeners." —School Library Journal

"This picture-book debut about a cat with a paw in two worlds is at times charming, at times laugh-out-loud funny, and its ugly-duckling case of mistaken identity will endear it to many." —Booklist
Awards:
Society of Illustrators Original Art Show, 2016
Irma Simonton Black Honor Award, 2016
Washington State Book Award Finalist, 2017
Washington Children's Choice Picture Book Award Finalist, 2017-2018
2017 JumpStart Read for the Record book
Order From:
QUACKERS
Written and Illustrated by Liz Wong
A cat who thinks he's a duck? He must be Quackers!!

This quirky funny book is about standing out, fitting in, and building a life with room for all.

Quackers is a duck. Sure, he may have paws and whiskers. And his quacks might sound more like…well, meows, but he lives among ducks, everyone he knows is a duck, and he's happy.
Then Quackers meets another duck who looks like him (& talks like him, too!)—but he calls himself a cat. So silly!

Quackers loves being among his new friends the cats, but he also misses his duck friends, and so he finds a way to combine the best of both worlds. Part cat, part duck, all Quackers!
Published March 22, 2016 by Knopf Books for Young Readers
ISBN 9780553511543
Download a Quackers coloring page here!